If there's one thing news headlines have taught us about the nation's opioid epidemic, it's that substance use disorder knows no demographic. Regardless of income, socio-economic status, education, race, and, as research shows, age, opioid use has infiltrated our communities and homes. For adults aged 65 and older, opioid-related hospitalizations increased by 34 percent and emergency department visits increased by 74 percent between 2010 and 2015 (1). While much attention has been given to the younger generations when it comes to preventing, diagnosing, and treating opioid addiction. But the elderly population is not immune to the deadly pandemic.
Opioid Use In Older Adults
Americans are getting older, and the inherent risk of an aging population is an increase in chronic pain cases. The number of Americans ages 65 and older will more than double (2) over the next 40 years, reaching 80 million in 2040. American adults 85 and older, the group most often needing help with basic personal care, will nearly quadruple between 2000 and 2040. Challenges that accompany an increase in age include a greater risk of injuries from falling, serious illness, and slower recovery. Even when these problems occur accidentally, the prescription of opioids can lead to misuse by older adults.
The opioid use by elderly adults is somewhat a catch-22 situation. Studies (3) show that even when the 65 and older population is administered the appropriate amount of opioid medication, there is an increased rate of falls, fractures, and all-cause mortality associated with opioid use. So, hospital rooms are filled with older patients injured or otherwise facing health challenges as a direct or indirect result of opioids. And those patients now need medication to help dull or control the pain from a recent injury. In addition, this particular population is at greater risk for adverse effects of opioids due to natural changes in metabolism.
How Elderly Adults Fall Into Opioid Addiction
A report from the Agency for Healthcare Research and Quality revealed, on average, nearly 1 in 5 senior adults filled at least one opioid prescription in 2015 and 2016 (3). It also indicated that 7 percent of seniors were considered frequent users of opioids. They filled 4 or more opioid prescriptions within the same time period.
Pain, ignited by the aging process or the result of an injury, is considered a major factor when it comes to opioid use in older adults. Another cause for the intense uptick in opioid use in older Americans is psychological factors. When chronic pain or other health challenges are present, the aging population is more susceptible to depression, anxiety, falls, functional impairment, slower rehabilitation, decreased socialization, sleep and appetite disturbances, and greater healthcare utilization. In many cases, these psychological factors will push elderly adults to opioid use. The report shows between 2015 and 2016, the rate of outpatient opioid use increased as health status declined, ranging from 8.8 percent for those in excellent health to 39.4 percent for those in poor health. Similarly, rates of frequent use increased from 1.6 percent to 21.8 percent as health status declined from excellent to poor.
Side Effects Of Opioid Use In Older Demographic
Even when opioids are prescribed for helpful reasons, the drug can have varying negative impacts on the elderly. If you're concerned an older individual in your life may be misusing opioids, look for evidence of these side effects:
Nausea
Opioids can cause nausea and vomiting in anyone who takes the drug (4). The elderly are particularly vulnerable due to an "increase in adipose tissue, decrease in lean body mass and decrease in total body water," all of which can affect drug distribution in the body.
Constipation
Research shows nearly half (48%) of all hospice patients on opiates struggle with constipation. (5)
Urinary Retention
A buildup of opiates in the body can make it difficult for the bladder to completely empty. (6)
Itching
About 10 percent of opioid users will deal with pruritus or severe itching. While the condition typically remedies itself within 7 to 10 days, it could last longer. (7)
Irregular Breathing
Opioids can make it difficult for the lungs to exchange oxygen and carbon dioxide properly. This makes respiratory challenges common for opioid users, especially the older generation. (8)
Involuntary Muscle Contractions
Opioid use over a long period of time can cause myoclonus (9). This is a neuroexcitatory side effect that conjures irregular, jerky contraction of the muscles.
If you recognize these side effects or fear an elderly one may be battling opioid addiction, contact Ocean Hills Recovery. We have a caring, experienced team to support your family member through treatment.
Opioid Treatment For Older Patients
Ocean Hills Recovery understands that each opioid substance misuse case is unique. Our expert drug specialists know how to connect with older patients. We will guide them through a personalized treatment plan that establishes sobriety. Finding solutions that address secondary issues, like pain or phycological challenges, is essential to recovery. Contact our skilled staff today to learn more about the amenities and treatment options at Ocean Hills Recovery.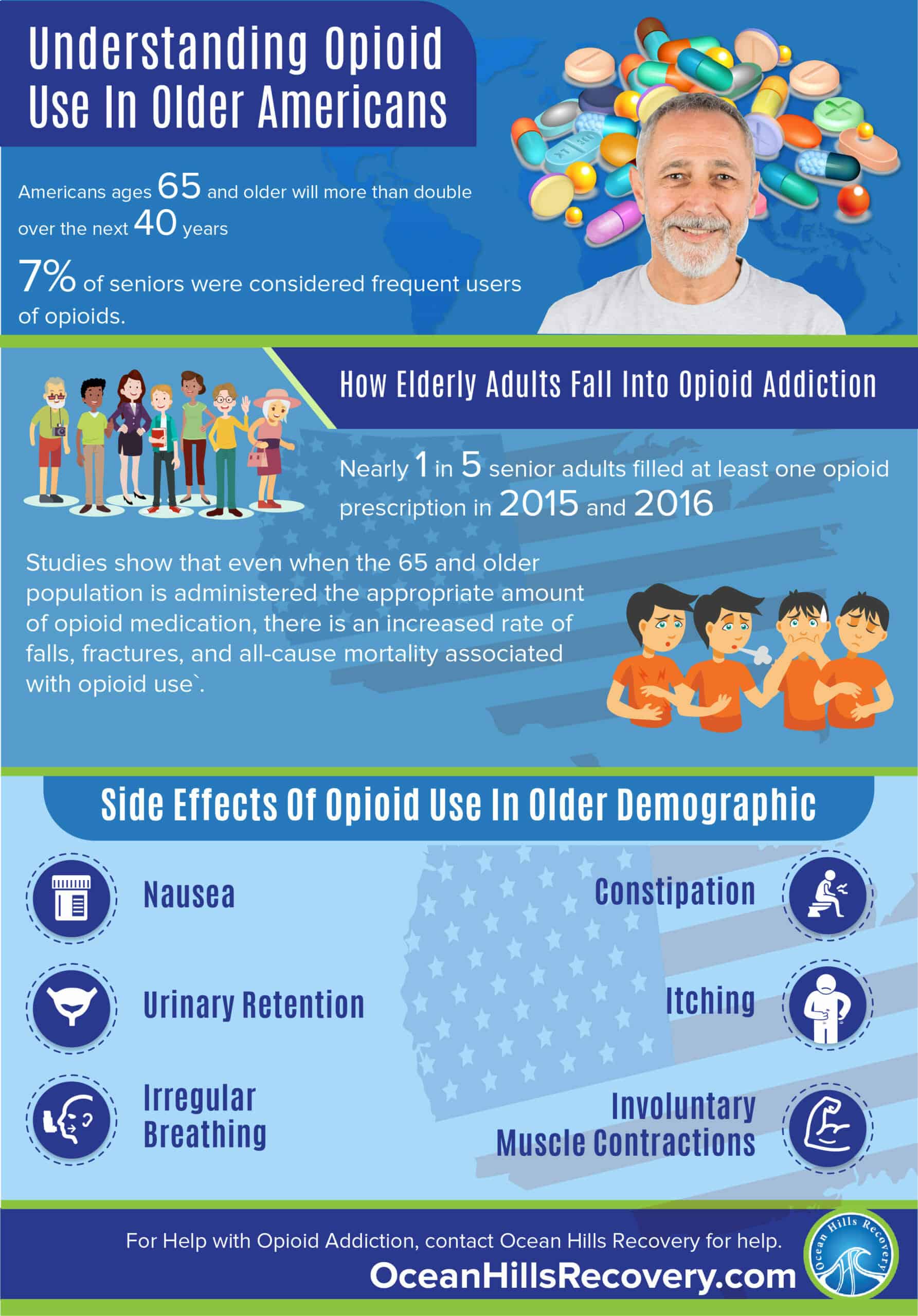 Sources:
(1) https://effectivehealthcare.ahrq.gov/products/opioids-older-adults/protocol
(2) https://www.urban.org/policy-centers/cross-center-initiatives/program-retirement-policy/projects/data-warehouse/what-future-holds/us-population-aging
(3) https://meps.ahrq.gov/data_files/publications/st515/stat515.shtml
(4) https://www.ncbi.nlm.nih.gov/pmc/articles/PMC2546472/
(5) https://www.ncbi.nlm.nih.gov/pmc/articles/PMC5012150/
(6) https://www.ncbi.nlm.nih.gov/pmc/articles/PMC5297852/
(7) https://www.ncbi.nlm.nih.gov/pmc/articles/PMC3351862/
(8) http://prc.coh.org/pdf/Resp%2520Dep-FF%252012-08.pdf
(9) https://www.ncbi.nlm.nih.gov/pmc/articles/PMC2077632/
About the author: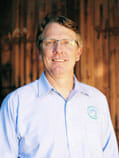 Greg opened his home and heart to alcoholics and addicts in 2003. He is a Certified Addictions Treatment Counselor (CATCI). Starting in 2009 Greg has fostered the growth of Ocean Hills Recovery into one of the most respected and effective treatment centers in the area and has been working with people with addictions since March of 2001. Greg believes in a holistic approach to recovery. His focus is on drug alcohol addiction treatment with a combination of 12 Step work, therapy and counseling, and the rejuvenation of the body through healthful eating and exercise. He has designed his program to foster a family-like atmosphere and believes that people in recovery are just beginning their lives. He encourages the people he works with to learn to enjoy life in sobriety. Greg is married to Nicole; they have two adorable sons together and an energetic yellow Labrador Retriever.