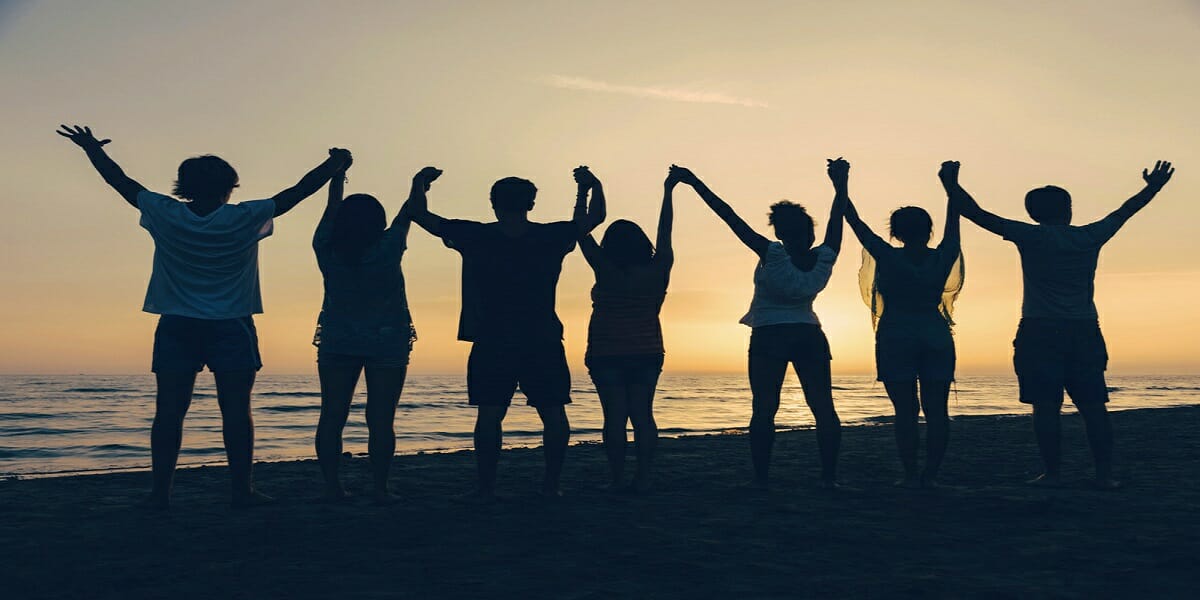 The 12-Step Recovery method is part of our comprehensive treatment of drug and alcohol addiction at Ocean Hills Recovery. A New Approach to Treatment: Ocean Hills Recovery provides a program that is completely unique. We have developed a cutting-edge treatment design that combines the bio-psycho-social model with 12-step recovery. We call it Collaborative Recovery. Our treatment team designs a unique program tailored to each client. We follow the client's individual progress through recovery from beginning to end, adjusting their treatment to suit their needs. We combine therapy, medical, psychological, and spiritual approaches to guide our clients through the most comprehensive and effective treatment experience available. Call now to enroll in one of our residential treatment programs like OHR's 12 step recovery program.
What is 12-Step Recovery?
The 12-step method of recovery was first described in the book Alcoholics Anonymous. While they were originally created to treat alcoholism, 12-step program has been adopted to address a wide range of substance abuse and dependency problems. As summarized by the American Psychological Association:
What is the 12-Step Recovery Program's Process of Self-Examination?
Admitting that one cannot control one's addiction or compulsion;
Recognizing a greater power that can give strength;
Examining past errors with the help of a sponsor (experienced member);
Making amends for these errors; learning to live a new life with a new code of behavior;
Helping others that suffer from the same addictions or compulsions
12 step meetings are held at various locations throughout the Orange County, CA community, which has one of the largest sober populations in the entire country. Our staff all actively works the 12-step method of recovery with a sponsor and we encourage all our clients to get a 'sponsor.'
A sponsor is someone who takes you through the 12-step process and serves as a mentor in a newly sober person's life. The First Step states that the individual is "powerless" over their substance abuse and they have a lack of control over their compulsion, which persists despite negative consequences.
The First Step of 12-step recovery states that the life of the alcoholic or addict is "unmanageable." This unmanageability is apparent when the alcoholic or addict is using any substance because once they start using, they are unable to stop. They no longer have a choice. This is when 12-step recovery may be the answer.
Why 12-Step?
In recovery, drug and alcohol addiction is often referred to as an "allergy of the body" and an "obsession of the mind". The allergy of the body is what makes alcoholics and addicts different from other people. When alcoholics or addicts put drugs and alcohol into their bodies, they have what can be described as an allergic reaction.
While other people may feel sick if they consume too much alcohol, alcoholics crave more. The phenomenon of craving is difficult for some to understand, but any alcoholic or addict will attest to craving their drug of choice. They will continue to drink or use drugs despite negative physical consequences.
This mental obsession is described as the cognitive process that causes the alcoholic or addict to drink or use drugs, even after a period of abstinence, either knowing that the result will be an inability to stop or operating under the delusion that the result will be different.
In recovery, addiction is also described as a spiritual sickness. The illness of the spiritual dimension, or "spiritual malady," is considered in all 12-step recovery groups to be self-centeredness. The 12-step model is not intended to be a scientific explanation; it is only a perspective that 12-step organizations have found useful. The process of working the steps is intended to replace self-centeredness with a growing moral consciousness and willingness for self-sacrifice and unselfish constructive action. In 12-step groups, this is known as a spiritual awakening or religious experience. In 12-step fellowships, "spiritual awakening" is believed to develop, most frequently, slowly, and over a period of time during your engagement with the 12-step recovery program.
Addiction begins once you are no longer able to control your intake and act irrationally. You just want to keep indulging and you can't seem to stop. Sound familiar? Once you realize this, you need to visit a rehabilitation center for help. Below is the 12-step recovery plan's "twelve steps" to the path out of drug and alcohol addiction:
What Are the 12 Steps?
1. Acknowledging That You Have No Control Over the Drug
The very first step is acknowledging that you are not able to monitor your consumption of that particular drug. You need to come to this conclusion on your own because if it comes from anyone else you may end up relapsing to the drug addiction even after you go through the rehabilitation process. Once you acknowledge this fact, then you have already begun your healing process. You are admitting that you have a problem and you need help solving it.
2. Believing that There Is Someone Who Is Capable of Helping You Deal with the Addiction
It is one thing to acknowledge that you have a problem but if you do not think that there is anyone who can help you get out of it then it is pointless. You need to be convinced that there is someone who can help you deal with the addiction and rid yourself of it completely. 12-step recovery is at least one place where you may get that support.
3. Surrendering to the Person You Believe Can Assist You
This step is crucial because it enables you to give up your futile efforts and surrender to someone who is experienced in dealing with such matters. This is basically asking the second party to intervene.
4. Take Up a Self-Inventory Test
With the help of the person, you admitted to that you require help. This step helps you evaluate yourself and the addiction problem you are facing, how you got to have it, why you need to kick out the addiction and how you will do that.
5. Openly Confessing the Things That You Have Done That Were Incorrect
This needs you to be brave because it is usually difficult for humans to admit that they committed an error. Tell this to your helper and any other person that you feel may be of help in your recovery process especially those people that were directly affected by your addiction.
6. Being Ready to Have Negative Traits in Your Character Pointed Out
You have admitted that you have a problem and the things you did wrong. Now you need to be ready to have those things pointed out to you by someone else. It is never pleasant to have your weaknesses pointed out by another person but it is important because this way you know how other people view you.
7. Requesting for Help in Getting Rid of Those Negative Traits
You need to ask for help in getting rid of those shortcomings in your behavior. The person assisting you in your healing process will point them out and then suggest ways in which you can be able to completely get rid of them. Be ready to get out of your comfort zone in order for anything to work.
8. Acknowledging That You Not Only Hurt Yourself but Others Too
It is easy to note the things someone has done wrongly towards you but how easy is it to admit that you caused someone else pain? Well, you need to admit that other people were hurt and you need to make amends with those who were directly affected.
9. Willingness to Make Amends with Those You Hurt
Whether it was physical, emotional, or psychological torture, you need to take account of your mistakes, apologize and move on. If you know someone had to part with money to bail you out of jail, or someone had to sacrifice something in their normal routine because of you misusing funds then an apology from you is long overdue.
10. Avoiding Bad Company
This is important. You cannot be undergoing a rehabilitation process yet you continuously hang with the people who caused you to fall into the addiction or in places that may cause you to have temptations of falling back into the pit you just came out of.
11. Self-Assessment of Your Progress
You need to know if you have made any progress in this process. Ask yourself how you feel about the whole situation, how are people relating with you after making amends and what can you do to avoid a relapse.
12. Take Up the Responsibility of Helping Others
The greatest thing you can do is to help other people come out of their addiction and stay sober. Find people in and out of your circle that may need guidance in getting clean. Help them get help as well and encourage them to do the same to others once they are cured. A 12-step recovery program is the path to wellness for many struggling alcoholics and drug addicts who are ready for an entire mind-body life change.