Choosing the right rehab center for your loved one or yourself can be an overwhelming, stressful journey. Many consumers get lost in online reviews of facilities and arbitrary 3-, 4-, or 5-star level services. In reality, choosing a medical provider is a lot more complicated. The best way for potential clients to research addiction treatment centers is to determine the kinds of facility accreditations their individual industries award. Accreditations highlight legitimate agencies committed to aligning themselves with national requirements for quality care. If one is searching for a quality rehab, it will be important to make sure they are one of the CARF-accredited treatment centers.
CARF accreditations apply to businesses offering health and human services. These are highly revered certifications that require a high level of commitment to their patients. Consider CARF accreditations as a determining factor in your search for an alcohol and drug rehab facility. More specifically, a CARF Accredited Rehab is a center that will hold rigorous standards for care for its clients.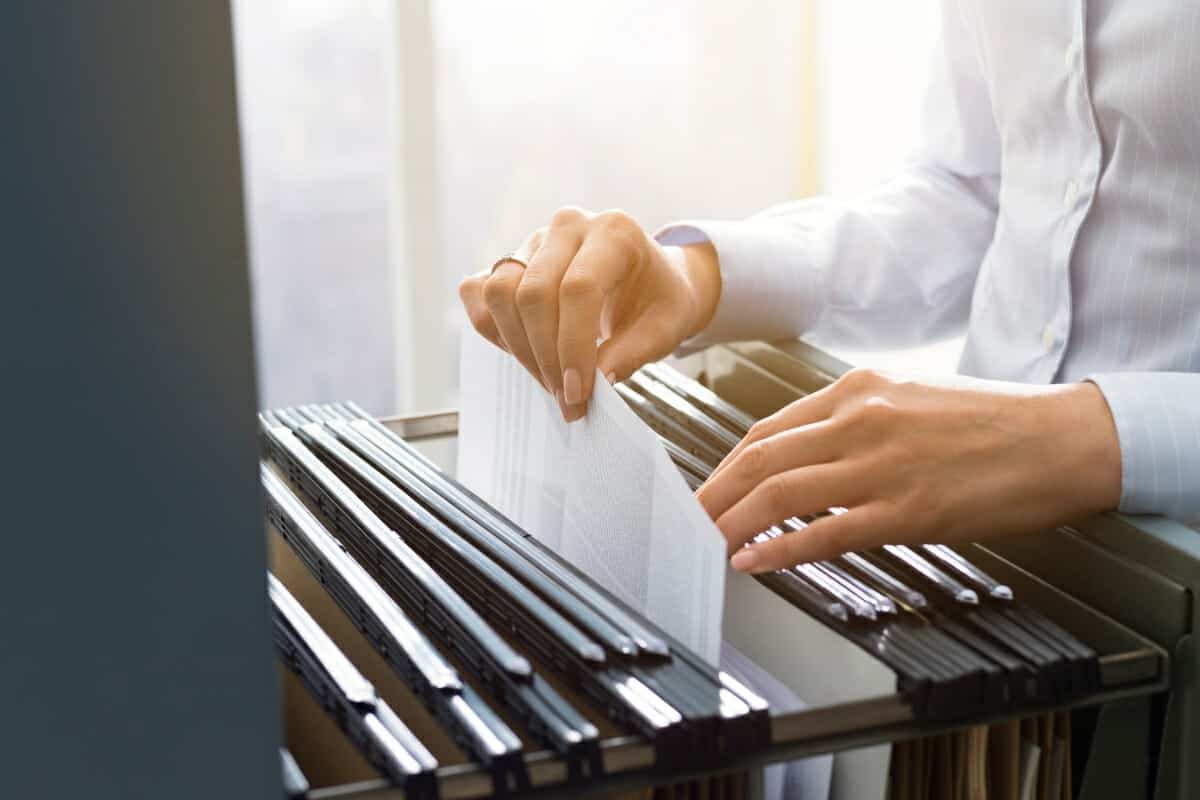 What is CARF Accreditation?
The Commission on Accreditation of Rehabilitation Facilities awards CARF Accreditation to facilities. CARF is an international and independent non-profit overseen by a board of 11 directors. CARF assesses health and human services providers in the following sectors:
Child & Youth Services
Behavioral Health (Including Addiction Treatment, Dual Diagnosis Rehabs)
Aging Services
Durable Medical Equipment
Medical Rehabilitation
Employment and Community Services
Vision Rehabilitation Services
Mary E. Switzer, the then U.S. Social and Rehabilitation Services Commissioner, founded CARF in 1966. Since its inception, CARF has been working to improve the quality of health and human services providers. CARF does this by evaluating facilities against set standards via an on-site survey. To be accredited by CARF, each facility must meet these quality standards.
While this might seem intimidating, CARF's ultimate goal is to improve care facilities around the globe. These care facilities include drug and alcohol rehab centers like Ocean Hills Recovery. To reach that goal, CARF offers consultative services that help elevate the facility to its standards (if it doesn't already meet them). These consultations won't just be about how the facility can meet CARF's standards. They'll also assess the rehab center's policies and practices so that they better reflect their mission and vision.
A CARF accreditation may not be as simple to acquire as other certificates. But earning it declares a facility's commitment to efficient, high-quality care of clients and/or residents. It's also highly appealing to insurance companies, making them more likely to work with a CARF Accredited rehab facility.
Why Should I Look for CARF Accredited Treatment Centers?
As the internet has made information more readily accessible, more and more consumers are doing their own research before committing to any kind of investment. The same research applies to behavioral healthcare facilities. Not every consumer will know to look for accredited agencies. However, searching for a facility with CARF accreditations is a simple way to ensure you or your loved one will be attending a deeply committed addiction treatment center.
Acquiring a CARF accreditation is not an easy process. It shows that the facility is dedicated to accountability, high-quality care, continuous improvement to reflect the modern landscape, and implementing feedback. Don't leave life-changing decisions up to amateurs' online reviews. Instead, trust the established expertise of CARF's surveyors who work diligently to determine credibility.
What are the Benefits of Choosing CARF Accredited Treatment Centers?
Facilities that have achieved CARF approval have shown they focus on their patient's individual needs and rights. A rehab with CARF Accreditation indicates to potential clients that the facility is:
Committed to reducing risk for those in their care
Dedicated to addressing all health and safety concerns brought to their attention
Empathetic to the concerns of patients and respectful of their cultural or personal preferences
Committed to providing the best care possible
Considerate of all feedback
Accountable for their actions in the eyes of their community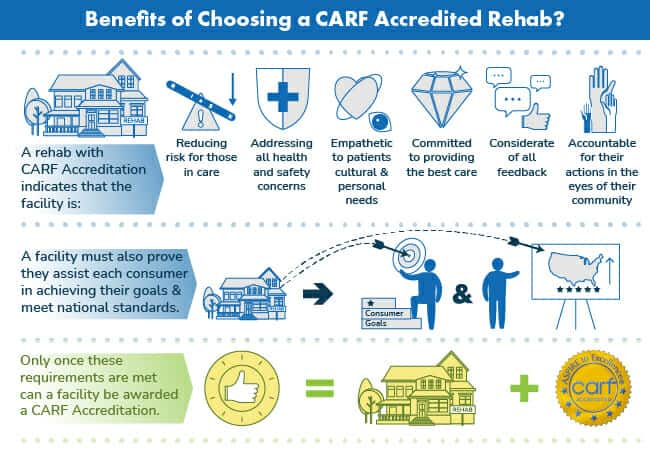 Furthermore, CARF only grants accreditation when a care facility can prove they assist each consumer in achieving their goals. At the same time, their services are reflective of their consumers and meet national performance standards.
What is the CARF Accreditation Process?
For first-time applicants, the process of acquiring a CARF accreditation can take between 9-12 months. Again, this should prove to all potential consumers that a facility with CARF Accreditation commits to the continuous improvement of its services and policies.
Internal Review
The first step in the CARF accreditation process is for the facility to evaluate its policies and services against CARF standards.
On-Site Survey
Next, a CARF surveyor–an expert in the field–evaluates the facility against CARF standards. This will involve interviews of staff, families, and clients and service and policy reviews. CARF also uniquely performs these surveys. Their surveyors function more as consultants and evaluate a facility in how it can stand to improve, not how they fail.
Written Report
After the on-site survey, the facility will receive a report from CARF listing its strengths and any improvement needs. The data they collected during their visit will determine their decision, but it may require updates and written reports of said updates.
Once a facility has been awarded accreditation, it can last for 1-3 years. However, CARF asks its accredited facilities to send in yearly reports on continued compliance. This achievement should prove a facility's determined commitment to quality and its openness to evaluation.
Ocean Hills Recovery CARF Accreditation
Ocean Hills Recovery received CARF's highest accreditation in years past, having earned their 3-year long accreditation after receiving a report with no suggested improvements. This meant that Ocean Hills Recovery's facilities were rigorously in line with CARF's internationally recognized standards. This has only been achieved by 3% of all accredited facilities.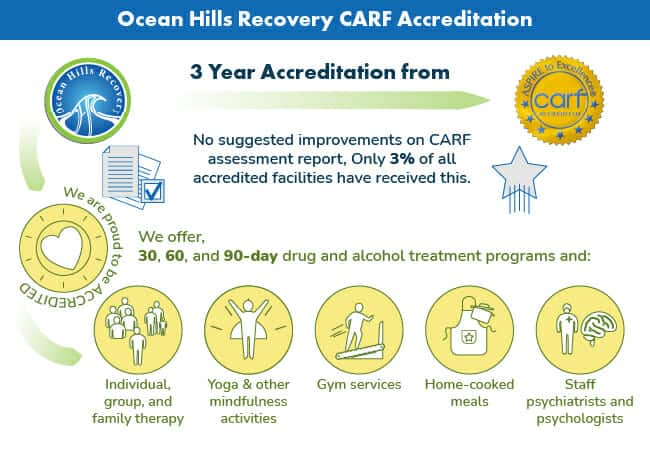 Ocean Hills Recovery is proud to hold this honor for our services, and we continue to practice our commitment to quality today. We offer a wide variety of drug and alcohol treatment programs to meet every patient's individual needs. These programs include:
Individual, group, and family therapy
Yoga and other mindfulness activities
Gym services
Home-cooked meals
Staff psychiatrists and psychologists
Begin Addiction Treatment in Orange County
Ocean Hills Recovery is a CARF Accredited Rehab located in Orange County, California. We commit to providing affordable, successful recovery options for our clients. To check your insurance coverage for addiction treatment, you may fill out an insurance verification form. If your insurance doesn't cover treatment, we also allow private financing. Our inpatient and transitional living residences are based in Orange County, in Dana Point, California.
Sources:
http://www.carf.org/home/