Located near the California coast, Santa Ana is a beautiful haven for locals and tourists alike. This city is the second most populated in Orange County and is home to over 330,000 people. Santa Ana is very family-friendly; in fact, it has been named the fourth safest city in all of the United States. Despite the security and tranquility this sunny city provides, it is not immune to the nation's growing addiction problem.
The inviting community of Santa Ana is not only affected by illicit substances but by prescription drugs and alcohol abuse as well. Thankfully, our Santa Ana drug rehab center is ready and available to effectively treat the disease of addiction while promoting comprehensive healing and overall wellness.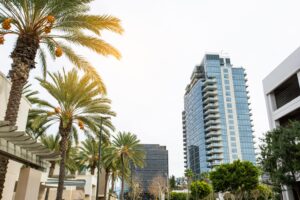 How Addiction Affects Santa Ana
It is no secret that our nation faces an opioid epidemic among other drug-related issues. The city of Santa Ana, located in Orange County, is no stranger to the damaging effects of drug and alcohol addiction. Between the years 2000 and 2015, Orange County has seen a 88% increase in overdose deaths. In 2011-2015 alone, the county showed a 37% increase in overdose hospitalizations.
In Santa Ana specifically, almost 21 in every 100,000 died from complications related to alcohol and drug use during 2013-2015. Through 2015, 415 of Santa Ana's hospitalizations were correlated with drug use. These numbers are heartbreaking as each of these individuals deserves to have a long and fulfilling life. It is crucial that Santa Ana drug rehabs offer effective treatment options to eliminate the fatal risks associated with addiction and get the city back on the right track.
What Do Santa Ana Drug Rehabs Treat?
Our Santa Ana drug rehab center treats a variety of substance use disorders as well as any co-occurring mental health conditions that might be present. Common drugs our clients receive treatment for include:
Heroin

Alcohol

Fentanyl

Prescription opioids

Stimulants (such as Cocaine and Adderall)

Benzodiazepines

Amphetamines
We also offer dual-diagnosis treatment for clients with both addiction and mental illness. Co-occurring disorders we treat include but are not limited to:
Generalized anxiety disorder

Various types of depression

Panic disorder

Bipolar disorder

Borderline personality disorder

PTSD

OCD

Schizophrenia
We Are Available to Help 24/7, Call Now:
Ocean Hills Recovery is committed to helping people find freedom from addiction. Our facilities are comfortable and welcoming to keep you engaged and focused in the process of recovery. We also offer plenty of amenities to ease the treatment process throughout your stay with us. Contact us today to learn more about our admissions process.
How Addiction is Treated in Santa Ana
Our Santa Ana drug rehab center uses a process to help our patients put addiction behind them so that they can attain sobriety. Here's a look at what you can expect at our facility:
Intake and Assessment.

Upon arriving at our facility, you will complete an initial evaluation. This includes answering questions about your addiction, completing a physical exam, and undergoing a comprehensive psychological evaluation. This helps us determine the severity of your addiction, whether or not there are any co-occurring conditions present, and if detox will be necessary.

Detox.

During detox, you will be able to clear your body of the toxins that drugs and alcohol have left behind. Detox allows you to focus on treatment and helps to increase your success rate. You'll be supervised throughout detox to assure your safety and comfort.

Treatment.

During treatment, you will be exposed to a number of therapies and programs, all of which aim to address the root of your addiction so that you can better understand it and move forward toward sobriety.

Aftercare.

You'll receive even more skills and strategies that will help to prepare you for leaving our facility so that your assimilation to the 'real world' – without drugs and alcohol – will be easier.
Benefits of Drug Rehab in Santa Ana

There are several benefits related to what our Santa Ana addiction programs have to offer. The most important of these is getting sober so that you can live a happy and healthy life. Other benefits of participating in one of our personalized treatment plans include:
The secure, constructive environment we provide

Treatment plans that have been tailored to meet your specific needs and recovery goals

Group therapy that encourages long-lasting peer bonds while reducing stigma

The opportunity to heal in an environment away from triggers and temptations

Access to luxury amenities as well as alternative treatment methods

The opportunity to learn and execute healthy coping mechanisms

Effective therapies that help you to identify the underlying causes of your addiction
Program Options at Ocean Hills Recovery
At our drug and alcohol rehab center, we use a combination of evidence-based interventions as well as holistic treatment options that encourage a full-body approach to recovery. It is our mission to help our clients improve their mental and physical health so that they can reach their recovery goals and achieve long-term sobriety. We offer therapy in individual, group, and family settings as well as behavioral therapies in our following programs:
Inpatient Treatment.

Clients live and receive treatment on-site, away from outside influences.

Partial Hospitalization Program (PHP).

This type of programming allows clients to live at home while requiring them to attend treatment several days a week for the majority of the day.

Recovery Relapse Program.

This program is designed specifically for those who have been unable to maintain sobriety in the past. It helps them target the reasons that contributed to their inability to stay sober.
Within our programs, we provide additional services including:
EMDR therapy

Brain Spotting

Medication-Assisted Treatment (MAT)

Holistic Treatments (such as yoga and meditation)

12 Step-Based Treatment
Begin Alcohol and Drug Rehab in Santa Ana, CA
Stop waiting and start living. It is time to overcome your addiction, so you can reclaim the joy in your life. Ocean Hills provides extensive addiction recovery programs that encompass a wide range of effective treatment modalities and encourage long-lasting recovery. To learn more about our drug rehab center in Santa Ana or to get started on your path to sobriety, give us a call or use our contact form today.