The most recent National Survey of Drug Use and Health (2019) shows that more than 20 million people aged 12 or older suffer from a substance use disorder – addicted to either alcohol or illicit drugs[1]. Those afflicted are a diverse population, and an individual's specific needs should dictate the appropriate intervention. The American Society of Addiction Medicine (ASAM) has identified five primary addiction treatment levels of care that direct clients to an initial treatment option and then guide them to either more or less intensive treatment as needed [2]. Read on to learn more about the five levels of care for addiction treatment.
Level 1: Early Intervention
The Early Intervention service level is for adolescents or adults who are not yet diagnosed with a substance use disorder but who present a risk for substance misuse based on a social service need, another medical condition, or problematic misuse of illicit substances or alcohol.
Early Intervention is often called the "bridge" between prevention and treatment, and its goal is to reduce risky behaviors before they progress into disorders that require more intensive treatment. Early Intervention services may be available in primary care offices, schools, or mental health clinics.
Level 2: Outpatient Services
Outpatient services can vary in the types of treatment available, but the patient typically attends regularly scheduled sessions and consults with addiction professionals.
The National Institute on Drug Abuse states that some outpatient programs do not offer much more than drug education. However, some are designed to treat patients who have other medical or mental health issues in addition to a substance use disorder[3].
Often, individuals will choose the outpatient level of treatment because they cannot leave their jobs or relinquish other everyday responsibilities that would allow them to seek more intensive outpatient services or residential treatment.
Continued after infographic: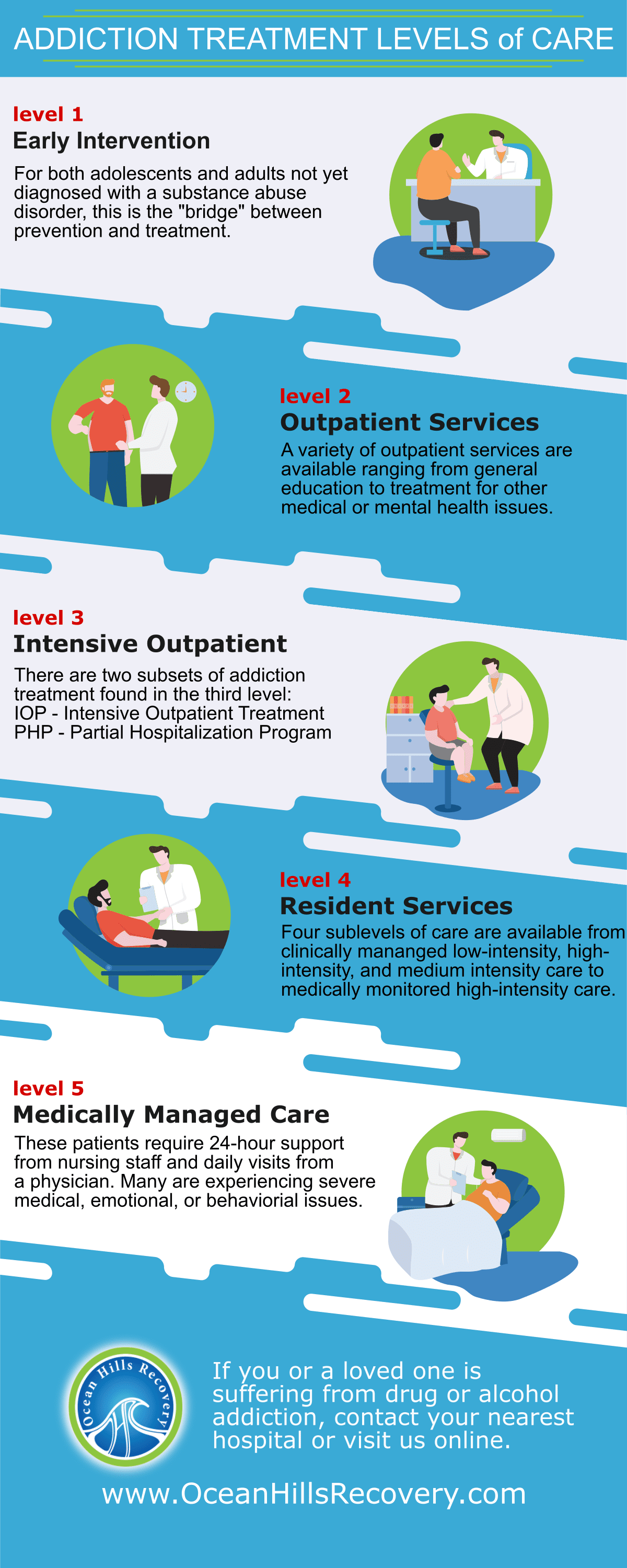 Level 3: Intensive Outpatient Treatment/Partial Hospitalization
The third level of addiction treatment is classified into two subsets:
Intensive Outpatient Program/Treatment (IOP)
Delivers an increased number of visits and services that are appropriate for the individual's needs.
The patient will see an individual counselor and meet with a physician at least once per week.
Sessions can be scheduled after work or school, during the evenings, or on weekends.
How long a patient receives Intensive Outpatient Program treatment depends not only on the client's clinical needs but also on the support system outside of the program facility and the patient's psychiatric diagnosis.
Sometimes individuals who have completed an inpatient program will choose to ease into daily life by continuing services in an intensive outpatient program.
Partial Hospitalization Program (PHP)
Clinicians recommend Partial Hospitalization when they determine a patient needs 20 or more treatment hours per week but do not require 24-hour care[2].
Partial Hospitalization services are usually day programs that include group therapy and other activities in addition to one-on-one counseling.
You're allowed to live at home or a sober living residence, but the treatment itself is more intense and rigorous than Intensive Outpatient Treatment.
Level 4: Residential/Inpatient Services
Once a clinician determines that an individual requires Residential or Inpatient services, patients are not subjected to a one-size-fits-all treatment protocol. Rather, patients will receive one of four sublevels of care and can move between these levels according to the severity of their disorder and the progression of their recovery[2].
Sublevel 1
Labeled as Clinically Managed Low-Intensity Residential Services
Available to both adolescents and adults
24-hour support from trained personnel
Patients have access to counseling and medical treatment as needed (medication management).
Sublevel 1 is often the introductory pathway to inpatient treatment when outpatient services have failed.
Sublevel 2
Called Clinically Managed Population-Specific High-Intensity Residential Services
Available to adults only
Meant to stabilize those in imminent danger or those with cognitive impairments
Patients are unable to use or benefit from therapeutic treatment.
Sublevel 3
Labeled as Clinically Managed Medium-Intensity Residential Services for adolescents and Clinically Managed High-Intensity Residential Services for adults
Shows no signs or symptoms of withdrawal
24-hour support with trained counselors to stabilize patients in imminent danger
Patients are able to tolerate therapeutic treatment.
Sublevel 4
Called Medically Monitored High-Intensity Inpatient Services for adolescents and Medically Monitored Intensive Inpatient Services Withdrawal Management for adults
24-hour nursing care and an available physician
Patients require medication and have recently tried to withdraw without success. This is typically a continuing addiction treatment.
Level 5: Medically Managed Intensive Inpatient Services
The fifth level of addiction treatment is called Medically Managed Intensive Inpatient Services for adolescents and adults. These patients require 24-hour support from nursing staff and daily visits from a physician. They are generally experiencing severe medical, emotional, or behavioral problems, and severe withdrawal demands that they receive ongoing medical services[4]. This level of care is often referred to as medical detox.
Customize Addiction Treatment Levels of Care
Treatment for substance use disorder doesn't necessarily happen in a linear fashion. You won't, by definition, start your rehabilitation at Level 5 if you don't require intensive medical management for detox. Instead, your individual situation may dictate that regular outpatient treatment is appropriate for your needs. But no matter where you begin treatment, the end goal is to teach you how to live free from a dependency on drugs or alcohol. Every program design provides a pathway to lasting sobriety.
Start Addiction Treatment Today
At Ocean Hills Recovery in Dana Point, California, we'll find the treatment protocol that will guide you toward long-lasting sobriety. Our experienced and knowledgeable staff will direct your treatment based on evidence-based approaches that are the most effective for your needs. We provide a caring and supportive environment where you can break free of your addiction and learn how to live a joyful, substance-free life. Contact us today to learn more about our variety of programs.
Sources:
[1] https://www.samhsa.gov/data/release/2019-national-survey-drug-use-and-health-nsduh-releases
[2] https://www.asamcontinuum.org/knowledgebase/what-are-the-asam-levels-of-care/
[3] https://www.drugabuse.gov/publications/principles-drug-addiction-treatment-research-based-guide-third-edition/drug-addiction-treatment-in-united-states/types-treatment-programs
[4] https://psychcentral.com/lib/levels-of-treatment-for-substance-abuse/
About the author: