At Orange county drug rehab, we offer a wide spectrum of drug and alcohol addiction treatment, rehabilitation, and detoxification. Experience world-class substance use disorders rehabilitation services.
Many people struggle to recover from their addictions. It takes time to heal, and the road to recovery requires proper support and patience. The repetitive patterns of addictive behavior should be gently released and supplemented with new patterns of sobriety, self-discovery, and strength. These steps have to begin slowly; you are worth the extra time it will take to heal yourself the right way. Our long-term drug rehabilitation program will provide you with the ability to do just that. We have found the rate of successful recoveries rises with recovery programs that are longer in duration.
Allowing yourself the time it takes to heal and incorporate the new changes that our Orange County drug rehab provides will give you an advantage over other programs that are not as thorough. Many clients have confirmed that our accepting environment, and the time that was spent understanding how to live their lives sober had a lasting effect on their permanent recovery. Sobriety heals the self, and many people recover aspects of themselves that they feared were forever lost. Participating in our long-term program will allow you to become comfortable with a new and positive sense of self. Simultaneously, you will have the ability to improve family relationships. The longer recovery time will help you to discover and alter the conditions that manifested into your addiction. You will experience new ties to a community of people who will show you that sobriety can cultivate a better life. Although other Orange County drug rehab programs begin to show you how to get sober, our long-term program allows you to bring your sobriety to fruition. We can free you from a life of addiction, and we will show you the way to a fruitful existence that can deliver the lasting happiness that you deserve.
About the author: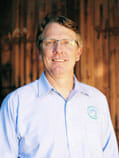 Greg opened his home and heart to alcoholics and addicts in 2003. He is a Certified Addictions Treatment Counselor (CATCI). Starting in 2009 Greg has fostered the growth of Ocean Hills Recovery into one of the most respected and effective treatment centers in the area and has been working with people with addictions since March of 2001. Greg believes in a holistic approach to recovery. His focus is on drug alcohol addiction treatment with a combination of 12 Step work, therapy and counseling, and the rejuvenation of the body through healthful eating and exercise. He has designed his program to foster a family-like atmosphere and believes that people in recovery are just beginning their lives. He encourages the people he works with to learn to enjoy life in sobriety. Greg is married to Nicole; they have two adorable sons together and an energetic yellow Labrador Retriever.